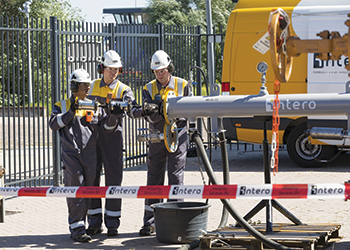 Intero Integrity Services' experienced team does an inline inspection using the flexible ILI tool
Intero Integrity Services, a world leading inspection and industrial services specialist, has taken on the arduous challenge of cleaning and inspecting very old pipelines, which have not undergone either procedure in the past 40 to 50 years.
"Three years ago, Intero Integrity Services was awarded the largest in-line inspection (ILI) contract in the world for Saudi Aramco under Al Tamimi Contracting (TCO). To date, we have inspected approximately over 100 pipelines," says Roland Hendriks, General Manager, Intero Integrity Services.
The long-term contract for ILI of the non-scrapable pipelines for Aramco, where Intero has to provide turn-key solutions, is still ongoing and has been extended to Aramco's refineries.
Hendriks ... challenging the ordinary
"The pipelines that are in our contract with Saudi Aramco are all highly critical lines and they all need to be inspected to ensure a steady and safe production of oil and gas," says Hendriks.
One of the challenges for Intero in the project is performing work in the middle of remote desert areas with no facilities.
Hendriks explains: "Every project is very challenging and we have performed every inspection perfectly. These are all pipelines which are 40 to 50 years old and have never been cleaned or inspected. After each inspection, Aramco performs dig-up verifications and we have found in some cases severe defects, which have been repaired by Aramco, avoiding catastrophic failures."
Another challenge for Intero was the shortage of staff due to the ongoing Covid-19 pandemic. "We sent several of our staff on leave at the beginning of the pandemic and now it is a huge challenge to get them back into the kingdom. We are providing additional training to the engineers still remaining in the kingdom in addition to training our local Saudi engineers," says Hendriks.
Intero Integrity Services has been active in the GCC for the last 20 years with regard to the inspection of non-scrapable pipelines. Its main office is in Abu Dhabi, UAE.
Its services include inspection of challenging and non-scrapable pipelines, onshore and offshore, with all associated services, such as nitrogen services, pumping, the supply of temporary launchers and receivers.
Due to the nature of some pipelines in the region and especially at Saudi Aramco, Intero always tailor makes inspection tools to address these challenges. Intero works closely, as a partner, with clients and finds solutions to even the most challenging problems. Its R&D department is always developing new generation of inspection tools to address the specific needs of the clients.
Commenting on business, Hendriks says, it has been significantly less than the previous year due to the low oil prices. "But we are confident that it will improve in the coming years," he adds.
Intero has keen focus on the region. It recently established its own entity in Saudi Arabia and also obtained vendor approval from Aramco.
A main development by the company is the opening of a centre of excellence together with TCO in Dammam's Second Industrial City. "From here we can service our customers in the kingdom," concludes Hendriks.