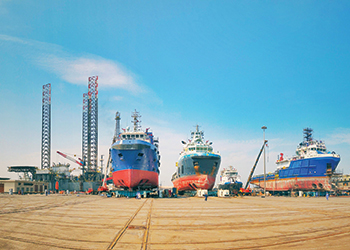 The Zamil Shipyards division has a highly skilled team
With over 70 offshore support vessels and a string of allied services, including construction and shipyards, Zamil Offshore is one of the largest offshore support services companies in the Middle East and a reliable partner
Zamil Offshore, a wholly owned Zamil Group Holding company, has been offering diversified offshore and marine support services to the oil and gas industry since 1977.
Its core business includes offshore marine services, ship chartering, ship chandelling, offshore and onshore, engineering and construction services, including turnkey hook-up services, shipbuilding, ship and rig maintenance along with seaport operations.
The company's offshore marine services division, Zamil Marine Services, manages 73 offshore support vessels, of which 68 are entirely owned and the rest brokered. These include diesel electric and Rolls Royce UT 733-2 anchor handling tug, supply, and safety vessels; DP-2 multi-purpose mufti role diving ROV support vessels, supply boats, work boats, utility boats, crew boats and one jack-up self-propelled lift boat. The majority of Zamil fleet vessels are on long-term charter with Saudi Aramco.
Another key division is Zamil Offshore Construction, which is a specialist in the execution of offshore and onshore services for the oil and gas industry, including hook-up projects, maintenance, upgrade, modification and commissioning support for offshore facilities and platforms. The division has been awarded several projects from Saudi Aramco for hook up and offshore maintenance services. Zamil Offshore Construction also has a joint venture with Mermaid Maritime to offer end-to-end project management solutions for subsea work. The Zamil Mermaid Offshore Services was established to undertake Saudi Aramco projects related to inspection, maintenance, installation, fixing offshore facilities, underwater facilities and underwater welding works.
Zamil Offshore operates the largest fleet in the Middle East
The Zamil Shipyards division on the other hand executes shipbuilding, ship and rig repair and general fabrication projects. Its highly skilled team consists of certified technicians and experienced marine engineers and naval architects covering all aspects and disciplines associated with its core activities.
Furthermore, through the division, Zamil is the sole distributor for MTU (core business being Rolls-Royce Power Systems) products and services in the Kingdom. Zamil-MTU provides a global solution at the local level. Backed by thousands of skilled, mobile and certified technical specialists and a sizeable spare parts inventory, the company provides extensive value-added solutions, from new engines to tailored design, power / speed upgrades, training, service, maintenance and spare parts creating a one-stop-shop solution to cover an extensive client base.
Zamil Offshore has the competitive advantage in Dammam through its management of the King Abdul Aziz Port, where its largest shipyard is located. The company manages around 2,500 movements in and out of the port facility every year enabling clients access to the port and its various facilities, such as tugboats, floating cranes, which the Zamil crew operate.