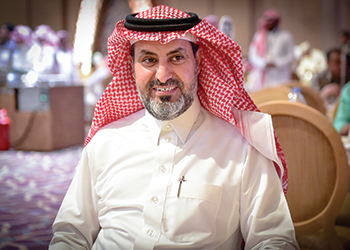 Al-Qahtani ... leading JTC to success
Al Jeri Transportation has expanded its fleet to reach more than 1,250 trucks and more than 2,500 trailers today and adding logistic services to its portfolio
Al JERI Transportation Company (JTC) has steadily evolved in the last 30 years to become a one-stop-shop for transportation and logistics services, earning itself the logistic service partner of choice with many customers.
Established in 1989, JTC started with one truck, and got registered at Saudi Aramco as a petroleum products transporter. Since then, the company has been on a journey of continued growth, having expanded its fleet to reach more than 1,250 trucks and more than 2,500 trailers today and adding logistic services to its portfolio. The main driver behind the achievements is the company's founder Hizam Al-Qahtani, now board chairman.
JTC has become a well-known name in the transportation of fuel, cement, chemicals, general cargo and containers transportation. In addition, its transport services include bulker, low bed and dumpers.
"We are specialists in the transport and delivery of bulk petroleum products as well as other bulk transports," says Al-Qahtani. He further says JTC has become one of the biggest transporters of fuel products, both petrol and diesel, in Saudi Arabia, supplying to more than 700 clients kingdom wide. It also has a large fleet for transporting hazardous and petroleum products, such as asphalt and crude oil with tanker capacities from 25,000 to 42,000 litres.
JTC fleet for transporting bulk cement products has a capacity from 20 to 32 tonnes, while its fleet capacity for raw material transport ranges from 22 to 42 cu m. Similarly, JTC has a large fleet of water tankers with capacities from 25,000 to 30,000 litres. And for general transport, JTC runs a large fleet of curtain sides, flatbeds, and reefers; while for transporting cars, it has a large fleet of two-deck car carriers, lowbed and small winch to provide car carrier services for individuals and various car agencies and showrooms.
JTC utilises state-of-the-art tools to manage and operate logistic services, including GPS to track and manage the fleet 24/7 with 360 insurance coverage, Oracle system to manage operations, and a call centre 24/7 to meet customer needs and mange fleet operations. JTC is ISO certified.
JTC ... transport and delivery specialist of bulk products
JTC has over 12 transportation branches across the Kingdom, in addition to custom clearance offices at Riyadh Dry Port, King Khalid International Airport, Jeddah Islamic Port, King Abdulaziz Port in Dammam, and King Abdullah Port in Rabigh.
JTC customers include Saudi Aramco, Saudi Electricity Company (SEC), Sabic, Ma'aden, Petromen, Saline Water Conservation Corporation (SWCC), ENOC and various government entities.
JTC currently is one of the largest Saudi Aramco products transporters, making it the biggest oil products over land transporter in the region. In early 2020, JTC executed a special project, which involved providing refueling and logistic services to the Rally Dakar race. The scope included erecting 52 refueling stations throughout the Arabian Peninsula's three major deserts, the Empty Quarter, Al Nafood Al kabeer and Al Dahna.