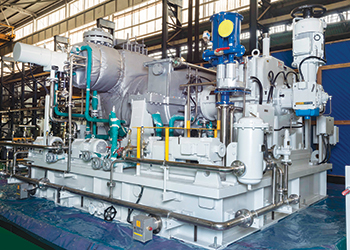 Triveni Turbines units ... reliable and efficient
The company manufactures at its world-class plants capable of handling complex processes and large-scale production, and backed by strong aftermarket support
Triveni Turbines' reliable, robust and efficient solutions have made it one of the world's most reputable and dependable turbine OEMs.
It is the second largest manufacturer of industrial steam turbines in the sub 30 MW range globally, and designs and manufactures steam turbines up to 100 MW.
With more than 1 billion operating hours of turbine fleet, the company has installed over 4,000 steam turbines (total 13 GW power generation capacity) across 20 industries. Triveni is present in over 70 countries around the world.
"Our steam turbines are used in diverse industries, ranging from sugar, steel, textiles, chemical, pulp and paper, petrochemicals, fertilisers, solvent extraction, metals, palm oil to food processing and more," Arun Mote, Executive Director, Triveni Turbine, tells OGN.
Triveni offers steam turbine solutions for industrial captive and renewable power. Its products and manufacturing facilities are approved by users, EPCs, PMCs and OEMs, including Bapco, Adnoc, Enoc, Samsung Engineering, Engineers India Limited and others.
Triveni provides renewable power solutions specifically for biomass, independent power producers, sugar and process co-generation, waste-to-energy, municipal solid waste combined cycle, oil and gas and district heating.
A 2.7 MW steam turbine was specified for an oil refinery in the Middle East
The company's product portfolio comprises a large range of back-pressure and condensing steam turbines that are easily customised to suit sector-specific and customer-specific needs. Equipped with a choice of impulse and reaction technology, these turbines can work across a wide range of pressure and flow applications.
"We also provide condensing and back pressure steam turbines in the 30 MW to 100 MW range through GE Triveni, our majority stake joint venture with GE," says Mote.
Triveni recently provided a turbine solution to a customer in the Middle East. The turbines included 4 X 1.5 MWe and 4 X 2.7 MWe steam turbines designed, manufactured and tested as per API 612, Shell DEP (design engineering practices), and AMEC FW project variations.
The steam turbines each drive four combustion air blower and flue gas fans for the world's largest reformer package. The turbines were designed for outdoor installation with MDMT suitable for -3 deg C, and aimed for a long service life of 30 years including 6 years of uninterrupted operation.

MANUFACTURING
Triveni manufactures turbines at its world-class manufacturing facilities in Bengaluru, India. "Driving our efficiencies are our two state-of-the-art production facilities, equipped to providing manufacturing of critical components, assembly, testing and refurbishing services, benchmarked to industry best practices and international standards.
"These world-class manufacturing plants are built to handle complex processes and large-scale production with total efficiency at optimal costs, with minimal wastage," says Mote.
The manufacturing facilities are Indian Green Building Council (IGBC) – Green Building Platinum certified for green, eco-friendly and energy-efficient standards.
Triveni's products and processes meet the most stringent international standards, as endorsed by its various certification awards from ISO, IES, BS, API, NEMA, DIN, ASME, CE, PED, AGMA, TEMA, and HEI; and tools and technologies such as Six Sigma, Kaizen, Small Group Activities, and Root Cause Analysis.

AFTERMARKET SERVICES
Triveni REFURB is an aftermarket solution for customers for their ageing fleet of rotating equipment.
Mote says: "The industry is constantly evolving and end users want to enhance the efficiency of their power plants. As a result, energy recovery and reducing energy wastage has become very important in this sector."
Triveni provides a wide range of aftermarket services for its own turbines as well as those of other OEMs. It is supported by a team of highly experienced and qualified design engineers and service engineers thereby supporting customers at short notice.
"Triveni REFURB is a vertical, focussing on efficiency improvement of the older generation turbines other than the ones manufactured by Triveni. The mantra is 'refurbish any age, any make of turbine'," says Mote.
Triveni REFURB has built a portfolio of supporting customers across industry verticals from spare parts, to value engineering to efficiency enhancement programs.
The REFURB vertical caters to all rotating equipment, such as compressor, generator, gas turbine rotors, and spare parts. All refurbished rotors are subject to high speed balancing with vibration limits as per API standards.
Triveni can reverse engineer the whole turbine or compressor either at site or at its facilities using 3D white light scanners to scan the components, developing the same and generating working models with a 3D printer before going into mass production. Over the last decade our Triveni REFURB team has worked on machines of most OEM's successfully and supported customers across the globe in ensuring healthy operating systems and is the multi brand repair arm of our company.
Mote says with Triveni REFURB services, customers can get various benefits, including up to 15 per cent improvement in efficiency; ROI under 2 years resulting in increased profitability of operations; life extension by over 100,000 hours; increase in span between 2 overhauls; and reduced carbon emissions.
Mote recounts a case in point, of a Triveni REFURB customer, a Fortune 500 petrochemical company that had been operating its 17-stage direct drive condensing steam turbine for over 40 years. "They envisaged change in their process requirements, which could be met by converting their existing double extraction condensing to single extraction back pressure," he says.
Triveni REFURB offered a cost-effective solution by modifying the existing steam flow path and replacing only the turbine internals (rotor, diaphragms and bearings). The existing casing and base frame was retained to ensure no modification on the foundation.
Triveni REFURB has also upgraded its existing mechanical governing system to electronic governing for a simple and reliable operation.

INDUSTRY 4.0 SYSTEMS
With digital becoming the new norm for operational excellence, Triveni has strategically chosen to strengthen its digital capabilities, and empower customers to meet the new and emerging business challenges. "Our IT-enabled operations and reporting structures help in tracking and capturing overall equipment effectiveness (OEE) and in boosting operator efficiency," says Mote.
Triveni's digital infrastructure encompasses the two main domains of business and technical software, and can be applied to key areas including generator drives for power generation, boiler feed water pump drives, air compressor drives, reformer fan drives, and lube oil pump and any pumps starting from few kW to MW for the oil and gas industry.