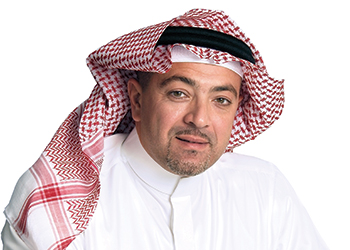 Nouh ... turning TAQA into a value creation company
The company perseveres to improve quality, increase performance, save cost, and boost growth with new technologies to support customers' focus of maximising production at low recovery costs
The Industrialization and Energy Services Company (TAQA) has always been a vital keystone of Saudi Arabia's economic success and will continue to play an essential role in its future progression.
The company is actively seeking to tap into the latest technology and manufacturing practices in this market to deliver the best and most advanced solutions to its customers.
In an interview with Abdulaziz Khattak of OGN, TAQA CEO, Khalid Nouh says: 'We are committed to creating value for our customers by strengthening the position and growth of our existing businesses and expanding into higher-tier services and new markets. Additionally, we want to provide differentiated, best-in-class client services and safety, using the latest technologies.'
He added: 'As we live through unpredictable times, TAQA is unreservedly well primed to navigate the shifting waters that may lie ahead. Our tradition of resourcefulness and resilience has driven continuous improvement in the way we operate as well as a relentless quest for sustainable growth.'
Established in 2003, TAQA is collectively owned by the Kingdom's Public Investment Fund (PIF) and a host of prominent Saudi joint-stock companies and institutional investors. The company has a rich portfolio of wholly-owned companies, subsidiaries and affiliates that were established in joint ventures with global leaders across several oilfield equipment and services markets.
These joint ventures focus on four core businesses: contract drilling, oil country tubular goods (OCTG) manufacturing, geophysical mapping and TAQA oilfield services and equipment (OFSE) and include the following companies:
• Arabian Drilling Company (ADC): With over 55 years of operational experience and a history of performance, ADC has delivered high safety and efficiency gains to the drilling process in Saudi Arabia. The company offers a comprehensive range of onshore fleet, including 38 medium to ultra-heavy onshore rigs designed to work in harsh climatic conditions and environments, capable of handling the most challenging client drilling programmes. In addition to a fleet of seven offshore rigs, including heavy-duty jack-ups outfitted with high specification equipment, ADC is capable of drilling to depths exceeding 20,000 ft.
• Jubail Energy Services Company (JESCO): Jesco produces seamless steel pipes of various dimensions ranging from 4-1/2 inches to 16 inches. Its slated annual production rate is 400,000 metric tonnes of seamless line pipes and OCTG products. The company's state-of-the-art FQM technology allows the production of the highest quality pipes, with a high degree of production flexibility, versatility and efficiency.
Through the latest heat treatment technology, Jesco can achieve API grades and tailored steel grades. Its proprietary steel grades cover the critical features of sour service, high collapse and high compression.
• Arabian Geophysical and Surveying Company (ARGAS): ARGAS's data acquisition capabilities cover land, transition zone, shallow marine, and ocean bottom applications. The company operates four Land 3D crews and one OBS offshore crew, which combined have acquired over 50,000 sq km of seismic data in the Kingdom alone. ARGAS deploys state-of-the-art technology in geophysical data acquisition, processing and reservoir analysis services. Their equipment provides optimal productivity, reduced downtime, low power consumption and reduced equipment weight.
Meanwhile, TAQA's wholly-owned companies include:
 
• Cougar Drilling Solutions: Since 1969, Cougar Drilling Solutions has been designing, manufacturing and delivering downhole drilling tools, services and solutions to oil companies worldwide. It has decades of experience in the direct management of complex drilling projects, from exploration to development drilling in oil, gas and geothermal. Cougar Drilling Solutions delivers innovative solutions both onshore and offshore, spanning North America, South America, Europe, Australia, Asia, Africa and the Middle East.
• TAQA OFSE — The Well Company: The company has inaugurated its operations headquarters, a state-of-the-art facility, in the second industrial city in Dammam, to be the heart of its operations. TAQA OFSE aims to deliver the highest performance throughout the life of oil and gas wells, and aspires to become the best company to drill, complete, stimulate, intervene, remediate, and decommission oil and gas wells. TAQA OFSE comprises four groups:
Operational excellence is a hallmark of TAQA across its businesses
• Well Construction and Evaluation (WCE): This group delivers all oilfield services involved in well construction and evaluation, including well integrity. It focuses on the life of a well from spudding until the last casing string is successfully cemented.
• Well Intervention and Stimulation (WIS): This group delivers all well intervention and stimulation services after the last casing string is cemented, including perforations, slick line, coiled tubing, hydraulic fracturing, and stimulation chemicals.
• Well Completions and Manufacturing (WCM): This group focuses all its efforts to strengthen TAQA OFSE differentiation by building the well Completions portfolio, establishing manufacturing capabilities of completions tools in Saudi Arabia.
• Well Engineering and Geoscience (WEG): This group comprises subject matter experts covering all well-focused domains and addressing all technical challenges of customers. It works closely with customers to deliver value through knowledge and technical abilities.

TECHNICAL & TRAINING FACILITIES
TAQA's new base includes a 620 sq m laboratory, the biggest cement lab in Saudi Arabia and the Middle East. The new operations headquarters hosts the training and development centre, a testament to TAQA's commitment to empowering its human capital.
The centre houses more than three classrooms and is capable of delivering 8,600 training days per year on operational, technical, soft skills, and QHSE courses. The latest and most potent coiled tubing simulators in the market are offered at the centre and are capable of simulating real-life well site experience. TAQA has also introduced a custom-made cementing simulator, the first in the region, to simulate various types of operation and training on contingency plans and emergencies.

QHSE
Building an operationally focused organisation will not succeed without a robust quality, health, safety and environment (QHSE) business unit, responsible for implementing international standards and meeting or exceeding the expectations of regulators and customers. As such, TAQA strives to perform all activities that bring no harm to employees, customers, contractors, the public, assets, and the environment while delivering the highest quality product and services.
TAQA promotes a culture of continual improvement to ensure there is a committed and practical understanding towards QHSE as an integral part of everyday business — 'a way of life'. The objective is to build an active management system with an integrated set of policies, business practices, and procedures to enable employees to work safely, consistently, and effectively in countries we operate in by providing reliable, standardised processes.

INVESTING IN THE FUTURE
TAQA perseveres to improve quality, increase performance, save cost, and boost growth with new technologies to support customers' focus of maximising production at low recovery costs. Its Product Development Center was established within the King Fahd University of Petroleum and Minerals (KFUPM) ecosystem to work closely with the university's R&D facilities and Saudi Aramco departments using local resources and aligning with Kingdom's Vision 2030.
The primary function of the centre is to comply with the rapid growth of TAQA by developing new chemical technologies and systems that can be used by Saudi Aramco in enhancing their production and growing TAQA's business using its human talent and local resources.
Moreover, an agreement was signed with KFUPM to work together on both contractual and collaborative projects. By 2024, the Product Development Center will be established as an industry-recognised state-of-the-art innovation centre and knowledge hub.