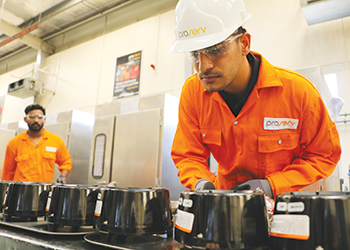 Inside a Proserv facility in the Middle East
When oil prices are down, as they are now, reliability issues around production begin to eat into margins, making maintenance optimisation a priority for operators right now, Michael Purkiss, Vice-President, Services, Proserv Controls, tells OGN
The oil and gas industry has always ridden something of a price rollercoaster through the decades, from the shocks of the 1970s, where the cost of a barrel of Brent quadrupled in just six months, between 1973-74, to a 1980s glut that saw a 300 per cent reduction in 1986 alone.
Many firms were still building resilience and momentum fresh from the latest 2015 downturn when a viral outbreak in Wuhan, China, in late 2019 brought challenges to the sector not seen before. By the spring of 2020, the dramatic slowdown in economic activity across the globe, alongside an ill-timed plunge in prices, represented one of the biggest crises the industry in the Arabian Peninsula had seen in its seven decades of operation.
Michael Purkiss, Vice-President, Services at global controls technology firm Proserv, has seen sites right across the world, including in Saudi Arabia and the UAE, readjust daily routines as life has transformed.
Purkiss ... extending the life of assets
He says: "The bottom line is that these past few months have been uncharted territory for everyone, be they operators or their service providers. At Proserv, our number one focus has always been the safety of our colleagues and their families. Day-to-day, we have had to deftly balance governmental regulations, around work practices and curfews, alongside meeting our contractual agreements.
"But this industry also has a distinct history of needing to be nimble and adaptable, whether that's embracing new disruptive technologies to improve margins, or adjusting strategies according to sudden global events – such as this current pandemic."
Purkiss points to the fact the Middle East's leading producers are nevertheless pumping millions of barrels every day, despite the worldwide slowdown, and this is likely to lift further from August onwards as the Organisation of the Petroleum Exporting Countries (Opec) alliance (Opec+) eases its stringent cuts in anticipation of increasing industrial activity around the globe.
The region's national oil companies (NOCs) are also executing proactive operational strategies as they forward plan increasing their production capacity in the coming years, with the UAE's Abu Dhabi National Oil Company (Adnoc) recently shutting down its 370,000 barrels per day (bpd) Bab field in order to conduct essential planned maintenance. Purkiss suggests this makes perfect sense.
OPTIMISING MAINTENANCE
Purkiss comments: "The cost of producing oil in this region is very competitive and that can insulate operators when prices are subdued, but both Saudi Aramco and Adnoc naturally want to maximise their returns from each barrel they pump and they recognise optimising their maintenance strategies is a fundamental part of that.
A Proserv technician conducts maintenance check
"If the prices are down, as they are now, then reliability issues around production begin to eat into margins. You could have a tower in a hard-to-reach desert location that has been working smoothly for years but, as it ages, issues will naturally occur, and if those haven't been monitored, or the tower isn't regularly checked, these could lead to a bigger problem, such as reduced efficiency levels or even downtime, causing potentially millions of dollars of lost revenue."
Purkiss believes when oil prices are under downward pressure, seeing wells suffer failures due to inadequate maintenance support is a real red flag, and while a number of operators could still do more to enhance their maintenance strategies, the leading NOCs in the Gulf understand the critical role maintenance plays, not only day-to-day but for their future expansion plans.
"Both Adnoc and Aramco recognise that their future production capacity targets will be met, not only by bringing new wells on-stream, but just as crucially, by making sure their existing legacy wells are producing to their maximum capability," he says.
Proserv's service team advocates what it describes as a holistic approach to maintenance, where an operator moves away from the out-moded 'break/fix' dynamic.
Purkiss explains that when an operator adopts a 'reactive' rather than a 'proactive' attitude, it is always on the back foot, susceptible to more breakdowns and not well-placed to move fast to rectify a problem.
"In this currently challenging climate, operators want to extend the life of their assets and avoid major capital expenditure. By devising a comprehensive maintenance model, focused on their core equipment and with realistic monitoring schedules built in, they will effectively reduce their failure rates and be right on top of any that do occur," he says.
"From a service provider's perspective, we know whether it's Saudi Arabia, the UAE or elsewhere, first of all operators want a speed of response from us when issues arise. So being local and able to mobilise fast is crucial, so that downtime is minimised. But beyond that, another vital requirement for NOCs is wanting solutions ahead of time. Therefore, seeking predictive maintenance expertise from their provider to almost eradicate unexpected failures."
INTELLIGENT SOLUTIONS
Purkiss reveals that this latter component is built on two key criteria: partnerships and technology solutions.
A Proserv technician inspects core equipment
He says: "A close working partnership between operators and service providers has so many upsides for both parties. For operators, it enables them to build trust in their maintenance supplier, so that when they have a need, they know who to turn to right away, saving valuable time. As the relationship evolves, operators will also gain increasing confidence in backing the decisions and judgement calls that the provider might suggest regarding future expenditure needs.
"For providers, greater and greater exposure to an operator's ways of working means they can always hit the ground running when called upon and can become accustomed to certain tendencies and patterns within an asset and its equipment."
Armed with this close knowledge of, and regular exposure to, an asset, a service partner can then utilise intelligence solutions (Proserv's own in-house maintenance optimisation platform is known as AEGIS) to collate data on specific fields or wells and start to predict future maintenance needs."
Purkiss thinks adopting such an approach to maintenance and service support is the only option as the industry seeks to kickstart its activity levels in the second half of 2020.
"When prices are so volatile and global sentiment across all business sectors is fragile as we try and move forwards from the pandemic, reducing overheads through improving efficiencies is the logical approach for operators. That means a joined-up maintenance plan, which will deliver effective monitoring of assets, ever alert to possible failures and downtime," he concludes.