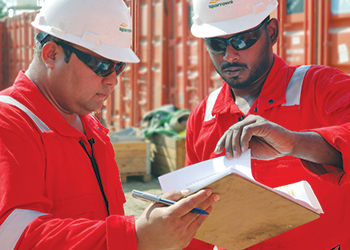 Sparrows Group delivers operational efficiency
With around 18 per cent of the world's proven petroleum reserves retained in Saudi Arabia, the Kingdom offers an attractive proposition for oilfield service providers.
Sparrows Group, a global provider of specialist equipment and integrated engineering services, has been steadily growing its business there since 2016 with a long-term growth strategy to become a key supplier for the Kingdom and its national oil operator, Saudi Aramco.
Stewart Mitchell, Sparrows Group CEO, explains: "We understood that gaining traction in Saudi Arabia wouldn't happen overnight. While our reputation is strong across the Middle East, we had to prove ourselves in the Kingdom, building up trust with the supply chain to ultimately deliver our services to Saudi Aramco. With the high level of activity in the region, we recognised there was demand for our knowledge and experience, particularly for inspection, maintenance and repair of drilling, lifting and other rotating equipment."
Fully functioning equipment is vital to ensure the smooth and safe running of any operation. However, high usage can result in fatigue and potential mechanical issues. Cranes, drilling equipment, lifting and rotating solutions require a proactive and consistent maintenance plan to ensure their ongoing integrity and performance.
"One of the first steps of our growth strategy was to establish an office and workshop in Dammam to ensure a local presence. We also upskilled the local workforce through our globally recognised crane operator, lifting and fluid power training courses to ensure the transfer of skills and knowledge," he continues.

ABS RECOGNITION
In the last four years, the company's local entity, Sparrows Saudi Arabia, has surpassed a number of key milestones, demonstrating its ability to operate successfully in the competitive onshore and offshore market.
The business achieved its most significant breakthrough in July last year when it secured vendor approval status from Saudi Aramco allowing the company to deliver its full portfolio of services to the operator. This includes drilling and lifting equipment examination and overhaul, specialist inspection, Dropped Objects Prevention Scheme (DROPS) surveys, mechanical handling and engineering support.
Just four months later, Sparrows became the first company in the Kingdom to be awarded Approved Service Provider Recognition for crane maintenance and overhaul by the American Bureau of Shipping (ABS).

DIVERSIFICATION
While the business is building a strong track record within the oil and gas industry, its ambitions extend to the onshore and industrial markets in Saudi Arabia.
In December last year, it achieved vendor approval status for chemical manufacturing business, Sabic. Sparrows has already delivered a successful fault-finding project for hydraulic winches at an onshore refinery as a result of the accreditation.
The company also completed a project with Arab Shipbuilding and Repair Yard (Asry) in Bahrain as part of Asry's extensive modernisation programme. It carried out non-intrusive inspection of its 16 rail, crawler and floating cranes earlier this year.
"Diversification is key and the recent projects with Asry and Sabic effectively demonstrate how we are applying our skills and expertise to the marine and industrial sectors to deliver significant operational efficiencies in the Kingdom," says Stewart.
So far this year, Sparrows has completed more than 25 projects in Saudi Arabia, delivering vital inspection and maintenance for lifting assets and rotating equipment.
Mitchell continues: "We have been incorporating non-destructive testing (NDT) which has delivered substantial time-savings. When working with cranes, there are hundreds of different components to be removed and examined so it is a time-consuming process which can leave a crane out of use for weeks.
"By implementing NDT in the form of phased array ultrasonic, the equipment can be inspected in a fraction of the time. In an active market like Saudi Arabia, this allows equipment to return to service much quicker, delivering operational efficiencies in Kingdom."