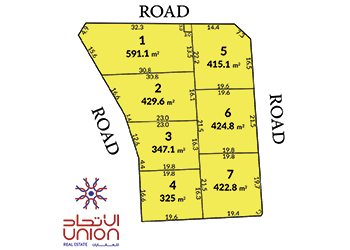 Land plots in Arad Residential
The rapidly-growing Bahraini realty company has brokered deals for many Saudis and GCC citizens, who don't have much knowledge about the local real estate landscape, its laws and the market
Bahraini Union Real Estate company has gained the hard-earned trust of investors from Saudi Arabia and Kuwait, who are looking to put their money into real estate in Bahrain, the island-nation that offers more value on prime property than its neighbours, Ahmed Mansoor, the company's General Manager, tells Abdulaziz Khattak of OGN.
The company, which is one of the fastest growing real estate company in Bahrain (having grown 300 per cent in two years), is known to have brokered deals for many Saudis and other GCC citizens, who don't have much knowledge about Bahrain's real estate landscape, its laws and the market. It now calls upon other potential customers to exploit their expert services.
Land plots in Askar Industrial
"GCC buyers looking to invest in Bahrain need not look further than Union Real Estate. We know the market like the back of our hand," says Ahmed Mansoor.
"Owing to the extensive relationship and experience Union Real Estate has with many investors and built on a long period of mutual trust and transparency, we can find any suitable property or project for investors," he says.
He continues: "We find value in deals for both the buyer and seller so that everyone goes home happy with something in their hands. We help customers put their money in the right property; we ensure them transparency."
He cites an instance, where a Saudi landowner in Bahrain nearly sold his land for a quarter of its actual worth. "We convinced him that his land was worth much more than the offer. And we didn't stop there. We went and found him a good buyer, who paid him four times what he was initially ready to pay," says Mansoor.
"So if a GCC citizen has land in Bahrain he wants to dispose of, we help them evaluate the land and get them the best possible deal. I can proudly say we are the best available consultants for the properties of Saudis in Bahrain," he says.
Land plots in Hidd area
Union Real Estate is an expert in plotting, having learned the tricks of the trade early on. Its approach allows the investor make more money on his land.
"Most real estate companies in Bahrain do things the old way. We on the other hand have experienced staff that can do drawing using AutoCAD; and dedicated teams for marketing, and evaluation," Mansoor says.
Union Real Estate has a 22-member strong sales team and is an expert in market study. Its USP is that it sets the price of land based on what people in that area can already afford to pay, so as not to cause any artificial inflation of prices.
Mansoor says Bahrain has a lot to offer in real estate and asserts that properties here are better compared to elsewhere in the region with profits that can reach a minimum of 30 per cent per annum. However, he adds, there is a shortage of much-needed investment in the local market.
"People in Saudi Arabia have the money and we here have the prime land. A collaboration between the buyer and seller will be a boon for both the parties and the economy," he remarks.
And especially since the demand for social housing has swelled to over 55,000 applicants on the waiting list, makes investment in Bahrain surely profitable.
Furthermore, Mansoor says legislation related to real estate in Bahrain is very pro-investor and protects their investment, especially since the establishment of the Real Estate Regulatory Authority (Rera) in 2017.
"The authority has brought further transparency and professionalism to the real estate market in Bahrain. Additionally, the process of developing lands has improved and is faster than before," he elaborates.

PROJECTS
A model of a villa at Muharraq Village
Union Real Estate undertakes projects in all regions of Bahrain. It has several good ongoing projects with others in the pipeline, Mansoor recounts.
Some of these are sea facing, he says, adding such locations would fetch four times the price in Saudi Arabia. "So, for example, we have plots of 170 sq m each in the Karzakan area facing the sea near the King Fahad Causeway. The prices of these start at BD38,000 ($100,529) per plot."
There is another huge project coming up in Amwaj by the sea. This includes sea facing 200 residential plots of 300-400 sq m in size each and cost BD24 per sq ft. Mansoor says this project will start in about two months' time. The commercial plots in this project are almost all sold out.
Also on sale are plots of around 304 sq m each in Bahrain's Hidd area at BD23 per sq ft, which he says is very affordable considering the area.
Another project in Malkiya offers 200-sq-m plots for BD45,000, while a project in Askar on the way to Durrat Al Bahrain near Aluminium Bahrain (Alba) factory is being offered at BD16 per sq ft.
Three prime plots in Seef are being sold for BD60 per sq ft when the going price in the area is BD100 per sq ft, says Mansoor.
Among upcoming projects is one in Hamad Town at Roundabout 2. The size of the plots, 50 in all, vary from 270-340 sq m and cost BD22 per sq ft. This project is located near the prime commercial Suq Waqif area.
The second project in the pipeline is in Saar area, where 100 plots would be freed in the coming 3 months and will be priced at BD60,000 each for a size of 310 sq m.
From amongst Union Real Estate's other achievements is the Salam 1 development, and Alola plots (100).