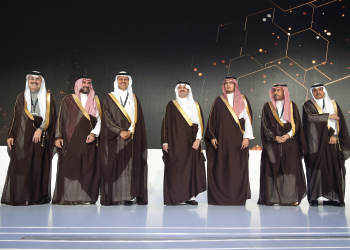 Prince Abdulaziz, Prince Saud, and Prince Ahmed with other top officials at the IKTVA Forum
Saudi Arabia's In-Kingdom Total Value Add (IKTVA) programme has attracted 468 investments from 25 countries with an estimated capital expenditure of $6.5 billion, resulting in 44 industrial facilities completed to-date, with another 64 facilities under construction.
Since its inception in 2015, iktva has demonstrated the inherent benefits of creating successful partnerships. The synergy driven by the programme has delivered greater levels of prosperity for the kingdom, with 56 per cent of procurement spent in the kingdom in 2019.
This was announced at the 5th IKTVA Forum & Exhibition held in Al Khobar on February 24, in the presence of Prince Abdulaziz bin Salman bin Abdulaziz, Minister of Energy, Prince Saud bin Naif bin Abdulaziz, Governor of Eastern Province, and Prince Ahmed bin Fahd bin Salman bin Abdulaziz, Deputy Governor of Eastern Province.
Saudi Aramco has signed 66 memoranda of understanding (MoUs) and strategic and commercial collaborations valued at more than $21 billion with international partner companies and entities from 11 countries in several industrial and business sectors under its Iktva Programme.
The MoUs and commercial collaborations were with Hyundai Heavy Industry, Seimens, Aasia Steel, Oilfelds Supply Center (OSC), Al-Khorayef Petroleum, Mitsubishi Hitachi Power Systems, Schneider Electric, Honeywell, Advanced Electronic Company (IT), XDM 3D Printing, Shengong New Materials, XINFOO and Saudi Exports Development Authority.
These investments will contribute to building an integrating Saudi supply chain and bringing new capabilities to the kingdom.
• Saudi Aramco has signed a joint venture agreement with Baker Hughes to establish a 50/50 non-metallic joint venture (NM JV) to innovate, develop and manufacture composite materials for both oil and gas as well as non-oil and gas applications. The JV will leverage polymer materials and state-of-the-art manufacturing processes to deliver transformational non-metallic products, starting with reinforced thermoplastic pipes (RTP) and an investment of around $110 million. The JV facility will be located at the King Salman Energy Park (Spark), and will serve the Mena region.
• Schlumberger has opened a world-class manufacturing centre in Spark to manufacture well completions technologies including liner hangers and packers and isolation valve technologies, such as Grove valves and Orbit rising stem ball valves, to help improve the efficiency of oil and gas operations in the Kingdom and neighbouring countries.
The first phase of the facility, over 105,000 sq m, will create more than 200 new jobs over the next few years and develop a highly skilled manufacturing and supply chain workforce for oil and gas products and services within the region. This is a demonstration of the Schlumberger alignment with the Kingdom's 2030 Vision.
• McDermott, a leading provider of integrated EPCI (engineering, procurement, construction and installation) services for upstream field developments, has broken ground on its new fabrication facility at the King Salman International Complex for Maritime Industries and Services in Ras Al Khair.
The state-of-the-art facility spanning 1.2 million sq m will include offices, pre-fabrication shops, blasting and painting shops and large assembly shops capable of fabricating platforms and modules for both offshore and onshore projects for Saudi Aramco and other customers in the region.
The facility will incorporate up to 80,000 sq m of covered shops to house the latest automation technology and will also include a 580-m reinforced bulkhead providing marine access, stated the global EPCI major.
It is worth mentioning that Spark is being developed to capture the full economic value from energy-related goods and services in Saudi Arabia and throughout the region, localising value creation through dedicated industrial development as part of the Vision 2030.