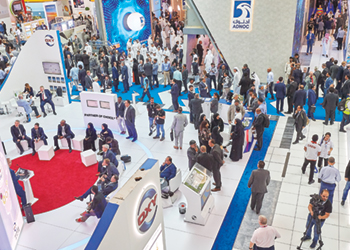 Adipec will unlock new value in an evolving energy landscape
The time for this year's Adipec is just right: the entire world is preoccupied with energy transition, decarbonisation and clean energy, and the world's largest event for oil and gas could help shape a clear agenda for the future of the energy landscape.
For the first time in the event's history, a roundtable focusing on hydrogen is being held showing that the UAE's energy leaders realise the needs of a cleaner future for the world.
The in-person Adipec 2021, from November 15-18, will welcome over 100,000 energy professionals and more than 2,000 companies from around the world along with the participation of 51 NOCs and IOCs and 26 country pavilions at the Abu Dhabi National Exhibition Centre. Additionally more than 8,000 delegates will partake in over 160 conference sessions.
The event is being held under the patronage of the President of the United Arab Emirates, His Highness Sheikh Khalifa Bin Zayed Al Nahyan, hosted by the Abu Dhabi National Oil Company (Adnoc), and organised by the Global Energy Division of dmg events.
Adipec has established itself as the world's most influential meeting place where energy companies and professionals convene to engage and identify the opportunities that will unlock new value in an evolving energy landscape.
At a strategic conference, ministers, policymakers and business leaders from across the world will share their perspectives on how hydrogen can potentially deliver a holistic, clean, integrated approach to the Middle East and North Africa (MENA) region's energy sector.
Leading firms will exhibit at the Smart Manufacturing Zone
Adipec has dedicated seven sessions to hydrogen to emphasise the importance of hydrogen in a diversified energy sector and address the challenges and opportunities of producing green and blue hydrogen on a mega industrial-scale.
According to a recent Goldman Sachs report, green hydrogen could meet up to 25 per cent of the world's energy requirements in less than 30 years, with a market value in excess of $10 trillion.
The Adipec sessions will focus on critical industry topics such as building a sustainable hydrogen economy, establishing a policy framework to promote hydrogen deployment, repurposing value chains, managing supply and demand dynamics, and up-scaling.
Expert speakers participating in the hydrogen sessions include Dr Samir Serhan, COO, Air Products; Martin Houston, Vice Chairman, Tellurian; Dr Christoph Noeres, Head of Green Hydrogen, Thyssenkrupp; John Kent, Chief Energy Transition Officer, Kent; Alicia Eastman, Co-Founder and President InterContinental Energy; Paul Bogers, Vice-President, Hydrogen Shell; Andy Hemingway, President, Energy Optimisation and Innovation, Wood; Brandon Spencer, President - Energy Industries, ABB; Daniel Teichmann, CEO, Hydrogenious; and Rod Christie, Executive Vice-President of Turbomachinery and Process Solutions, Baker Hughes.
The UAE has a home ground advantage to showcase its commitment to net-zero carbon emissions and its roadmap for a sustainable energy future, with green hydrogen production integral to its ambitions. This comes as the UAE is positioning itself as a low-cost producer and exporter of blue and green hydrogen, as well as green ammonia.
The UAE is already working on a 2-GW green ammonia project by Taqa and Abu Dhabi Ports. The project will produce green hydrogen and process it into liquid ammonia, used in ships as bunker fuel and for export.
Meanwhile, the Khalifa Industrial Zone Abu Dhabi (Kizad) has announced plans for a $1-billion green ammonia plant, which will produce 200,000 tonnes of green ammonia from 40,000 tonnes of green hydrogen.

STRATEGIC CONFERENCE
Adipec's Strategic Conference will bring immersive and interactive sessions on diverse topics including ministerial panels, leadership debates, industry disruptor interviews, and strategic panel sessions.
Speakers at these conferences include key government energy officials, including Dr Sultan Ahmed Al Jaber, Minister of Industry & Advanced Technology, UAE, and MD and Group CEO, Adnoc; UAE Minister of Energy and Infrastructure Suhail Mohamed Al Mazrouei; Bahrain Minister of Oil Shaikh Mohamed bin Khalifa Al Khalifa; Secretary General of Opec Mohammad Barkindo, and many others.
The sessions will offer unique insights into how the energy industry has responded to the challenges of Covid-19, and how it is adapting more broadly in the face of accelerated energy transitions, growing global ambitions for sustainable integrated energy value chains, and net-zero emissions.

CO-LOCATED EVENTS
A new Smart Manufacturing Zone at Adipec will bridge the gap between energy, manufacturing and high tech sectors to accelerate economic development and diversification.
The zone will offer the ultimate platform for the manufacturing sector to engage with energy decision-makers, as well as leading manufacturers, intent on developing smart ecosystems, as they focus on building resilient, sustainable businesses and leveraging future growth opportunities.
Another co-located event is the Offshore and Marine exhibition and conference, a key global meeting place focusing on marine services, logistics, transportation of freight in a cleaner, greener more sustainable and environmentally safer way.
Separately, the Digitalisation zone at Adipec will provide both the technology and energy sectors with a business-critical platform to showcase the latest solutions, advancements and breakthrough's that will enable the industry to accelerate the agenda of energy transition and decarbonisation.
Apart from these, other conferences and forums will include the SPE Technical Conference; The Forum for Diversity, Equity and Inclusion; and the Downstream Technical Conference, where over 800 technical experts from around the world will deliver 127 sessions across 4 days of business critical knowledge.
For the elite, Adipec has a VIP club, which connects the energy industry's leaders, innovators and influencers.
The Middle East Energy Club is where members can meet and exchange knowledge and ideas with fellow industry leaders, government officials and policymakers, in a relaxed atmosphere, outside the formal structure of Adipec's busy programme.
And Adipec is not all work; there is fun too. Right before the opening day, The Adipec Golf day offers an exclusive opportunity to engage with over 100 key industry players in a relaxed social atmosphere prior at the Abu Dhabi Golf Club.
Last but not the least, Adipec 2021 will host the 9th edition of the Young Adipec programme. Fully supported by the Abu Dhabi Department of Education and Knowledge (ADEK), the programme is aimed at high school students aged between 14 and 17 years old to highlight the wealth and diversity of career opportunities in the sector. Since its creation back in 2013, over 3,300 students from across the UAE have passed through the Young Adipec programme. Part of their agenda includes holding Field Trips, Experiential and Edutainment Programme, and Young Adipec Talks.