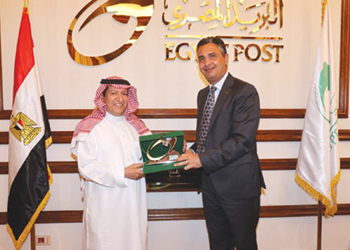 Almazrooa and Dr Sherif (right) ... expansion in Egypt planned
Naqel Express has been strategically growing its footprints in the Middle East and North Africa (Mena) region since 1993 to provide logistics and transportation solutions to companies looking to enter or grow their business in the Mena market.
Operational across 16 countries in the Middle East, Europe, the US and China and handling 20 million shipments annually, Naqel has built a strong presence in Mena's logistics sector, with a proven track record in Mena to serve all industries.
It has a prominent presence in the key markets of Saudi Arabia and the UAE, and additionally in Bahrain, Egypt, Jordan, Kuwait, Lebanon and Oman, with Algeria, Iraq, Morocco, Qatar and Tunisia joining the operational network in 2022.
As part of its expansion plans in Egypt for the next five years, Adnan Almazrooa, Deputy CEO of Naqel, and senior company officials, recently met Dr Amr Talaat, Egypt's Minister of Communications and Information Technology, and Dr Sherif Farouk Reyes, President of the Egypt Post Authority.
They discussed ways to support Naqel's investments in sectors like transportation of non-postal parcels and e-commerce.
Naqel has placed experienced teams in the key source countries of the US, China, the UK, Europe, and the UAE to provide much-needed expert guidance to e-retailers in these countries to deliver to customers in Mena.
The teams take care of processes of entering Mena and providing the right solutions so that clients can have the peace of mind knowing that their shipments will arrive to their customers on time.
Across Mena, Naqel offers a wide range of logistics services, e-commerce and express deliveries, freight forwarding - road, sea, air freight, warehousing and e-fulfilment.
For e-retailers looking to ship cross border to Mena, the company offers two types of e-commerce services - cross border-full mile and final mile as well as a domestic full mile delivery service.
With Naqel Express, international e-retailers can offer home delivery to their online shoppers in Mena within 3-7 days including payment on delivery, real-time tracking and easy returns processing.
Naqel focuses on the speed and quality of B2C deliveries, domestically and internationally, to and within the Middle East, using its air and road network.
The company has over 5,000 logistics professionals and a fleet of over 4,000 vehicles, warehouses, e-fulfilment centres, customs gateways and in-house 24/7 customs clearances in the key Mena countries. It is further supported by an all-female bilingual call centre and omni-channel customer support.
In the Arab world's largest economy, Saudi Arabia, Naqel has the largest operational network, reaching even the remotest locations with 4,900 delivery points, including all cities, towns and villages.
For businesses in the GCC, Naqel offers time-definite door-to-door parcel deliveries, with on-time delivery assurance and transparency in real-time tracking of shipments.
Its warehousing facilities (dry and cold chain) provide complete peace of mind for customers keen to outsource their storage, inventory control and distribution activities.
Naqel has a multi-model approach ranging from traditional warehousing to 3PLs.
Whatever the size of shipments, the company has a freight solution with warehouses, distribution hubs, clearance facilities at the ports of entry and door-to-door services.
Also offered are standard, economy and premium freight forwarding services to the GCC with the fastest customs clearance at all airports in Saudi Arabia and a road network distribution to all cities in the Gulf countries.
Naqel's commitment has always been to bring speed, care and efficiency to the supply chain requirements of clients.