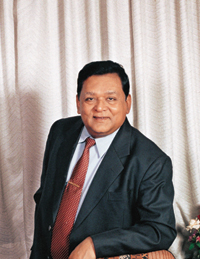 Naik ... consolidating in the region
A JOINT venture of L&T, Larsen & Toubro Atco Saudia has secured a large procure and construct contract from Sadara Chemical Company (Sadara), a joint venture of Saudi Arabian Oil Company (Saudi Aramco) and The Dow Chemical Company (Dow).
The project involves procurement and construction of solution polyethylene and speciality elastomers package in Al-Jubail Industrial City II, in the Eastern Province of Saudi Arabia, where Sadara is constructing a world scale chemical complex. The project is scheduled to be completed in 35 months.
The prestigious contract was won by L&T-Atco against stiff local and international competition. It is part of L&T's strategic growth plan in the international chemicals sector.

L&T has been making significant strides in engineering and construction in the international market through its well-established capabilities in the execution and delivery of turnkey solutions and services.
As with all other projects being executed by the L&T Group, the Sadara project will maintain standards of health, safety and environment, procurement, project and construction management, quality and delivery that conform to international norms.
L&T-Atco is one among multiple joint ventures of L&T in the high-growth markets of the GCC (Gulf Cooperation Council) countries.
It offers electro-mechanical construction services in key segments covering oil and gas, hydrocarbon, petrochemical, pipelines, power projects, water and effluent treatment plants.
Its capabilities are backed by the parent company's expertise and track record in executing large projects in the region.
It is expected that the new order will further consolidate L&T's credentials as a major engineering and construction player in the international chemicals market.
L&T, which is India's largest engineering and construction company, is banking on overseas markets to fuel growth as it braces for tapering order inflows, "deferment of capital expenditure and fresh investment decisions" in the domestic markets – a weakness that both analysts and company say will likely persist in the near term.
Diversification has to be the way forward for the engineering conglomerate and the overseas business could "emerge as a surprise package", analysts say.
The builder of power networks and infrastructure projects, which announced quarterly earnings that exceeded estimates, announced that it is targeting 15-20 per cent growth in 2012-13 and will focus on west Asian markets such as Saudi Arabia, the UAE, Qatar, Kuwait and Oman in the current fiscal. It is also in the "exploratory stage" in several other markets which it will enter in the next couple of years, chairman AM Naik says.
"We are doing well in UAE and Oman. We will improve our market share in Qatar, Kuwait and Saudi Arabia, which has tremendous potential," says Naik, adding that L&T was also looking to enter Iraq and Indonesia.
"The company has opened an office in Brazil to get "exposure to the upstream oil and gas exploration" business and is "seeding its business in the CIS (Commonwealth of Independent States) countries" with an office in Turkey. However, all forays other than those in western Asia will be in 2013-14.
"We haven't done much in infrastructure (sector) in the Gulf. We are seriously looking at that now. We believed India was enough (to offer growth in the segment), but we are looking to mitigate that risk," explains Naik who called Saudi Arabia an "ocean" of opportunities that alone can potentially yield $1 billion (around Rs5,370 crore today) in revenue.
L&T says it also expects growth in the US where investments in shale gas have led to increased production of natural gas liquids and, hence, a greater demand for creating downstream facilities that the company can help build.
"Diversification is what this is all about," says Rajeev Desai, sector analyst with Mumbai-based brokerage IFCI Financial Services Ltd.
"They have worked with foresight and been at it for two years. Now it is becoming more concrete. And they haven't gone ahead and bid for a $5 billion project competing against the Koreans. They are going ahead with a lot of technical collaborations" with domestic players in these countries, he adds.
In a note to clients, Emkay Global Financial Services Ltd had taken "cognisance of L&T's endeavour to increase presence in overseas markets (especially Middle East) over the past three years" with the order inflows increasing from 4 per cent in FY10 to 15 per cent in the first nine months of FY12.
"We have factored conservative growth of 7 per cent in overseas business in view of tough competition...overseas business can emerge as surprise package."
Naik criticises "newcomers" in the Indian market who lower prices to get contracts. "We have lost many orders in the last few years to newcomers whose background abilities don't match ours," he says, adding that he was looking at a "competition of equals" in the global markets.

A JPMorgan report by Shilpa Krishnan and two other analysts says that "L&T appears to have shunned less profitable jobs", but called it "a good strategy when the capex cycle is muted and the company has order book comfort".
L&T reported a net profit of Rs1,920.41 crore for the March quarter, clocking an increase of 14 per cent. Sales rose 21 per cent to Rs18,461 crore.
Chief financial officer R Shankar Raman says the order deferments had come mostly from power plants, fertiliser units and infrastructure projects such as airports among others.
He expects the company to maintain stand-alone operating profit margins of 11.8 per cent in FY13, but said "we should factor 50 basis points volatility in the margins" given commodity and foreign exchange volatility. One basis point is one-hundredth of a percentage point.
L&T did not meet its lowered outlook for 5 per cent growth in new orders for FY12. These fell 12 per cent to Rs70,574 crore from Rs80,362 crore last year.
The company invested Rs1,730 crore in capital expenditure in FY12 and expects to spend a similar amount in the current fiscal.