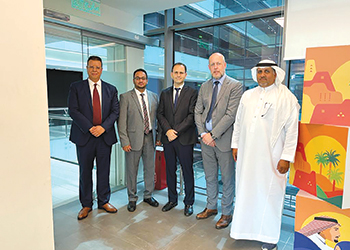 The partnership will strengthen the Kingdom's logistics industry
Almajdouie Logistics and CMA CGM Saudi Arabia share KSA's goal of handling 40 million containers annually by providing smart, efficient, and competitive depot services
Almajdouie Logistics and CMA CGM Saudi Arabia have signed an agreement for the handling and repair of shipping containers at a dedicated depot in Dammam.
Both companies will complement each other through synergies to further enhance the Kingdom's logistics industry.
The agreement was signed by Kris Brusselmans, COO Almajdouie Logistics, and Michel Azrak, General Manager, CMA CGM Saudi Arabia.
Commenting on the agreement, Brusselmans says: 'We are pleased to enter this new partnership and look forward to working together to further enhance CMA CGM Saudi Arabia's high standards.
He adds: 'The supply chain in Saudi Arabia has gone through a paradigm shift in the last few years and our vision is to help facilitate the Kingdom's goal of handling 40 million containers annually by providing smart, efficient, and competitive depot services.'
Almajdouie has extensive experience in providing storage and repair services to a variety of leading shipping lines, helping to facilitate trade and improve container turnover.
Its state-of-the-art terminals are equipped with the latest technology and operated by specialised staff adhering to the highest safety standards in the industry.
Strategically located near the main seaports and industrial cities across Saudi Arabia and the UAE, these facilities are operated round the clock with a dedicated team available to respond to customer requests and inquiries.
Almajdouie offers a wide range of services to meet customer requirements, including container handling, material handling, and reefer plug-in.
Through its container service centre, it also offers repair, sea bulk, washing, and pre-trip inspection services.
Present in KSA since 1984, the CMA CGM Group has offices in all major cities across the Kingdom, including in Dammam, Riyadh, Jeddah, and Madinah.
A global leader in sea, land, air and logistics solutions, it operates 24 weekly maritime calls from and to Saudi Arabia, connecting the country to major global destinations with a state-of-the-art intermodal network on land.
The Group is committed to offering the Saudi market complete maritime and logistics solutions combined with agility, professionalism, and efficiency.
Azrak, General Manager of CMA CGM Saudi Arabia, says: 'With Almajdouie's extensive services and the comprehensive range of CMA CGM can offer in Saudi Arabia, this partnership is a great opportunity for both our companies. Our teams will work together to provide excellence in terms of service to our customers and to respond quickly to market needs.'