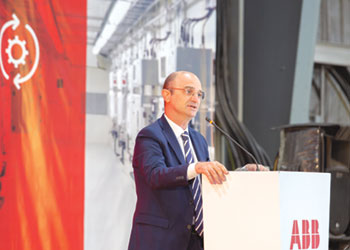 Jacques Mulbert, President, ABB, Measurement & Analytics Division, at the Dammam facility opening
ABB's System Integration Unit (SIU) has been at the forefront of the company's efforts to drive localisation and digitalisation in the Kingdom of Saudi Arabia in line with Vision 2030.
With an active presence in the country for more than 70 years, the state-of-the-art unit at its process automation factory in Dammam in 2022 is a further testament to ABB's support for Saudi Arabia's energy sector and development programmes, including Aramco's In-Kingdom Total Value Add (IKTVA) programme.
The programme focuses on the growth of a more localised industrial sector, increasing global competitiveness through a diverse economic environment, and building a prosperous future for Saudi citizens.
'We have been working with Aramco for almost two decades serving the Saudi energy sector. The incorporation of the SIU at ABB's Dammam factory shows our commitment to the country's economic and social development programmes like IKTVA,' says Javier Suarez, Global System Integration Manager, ABB, Measurement and Analytics.
The 10,000-sq-m world-class facility delivers fully integrated customised analyser systems and solutions from initial engineering through fabrication, testing, field start-up and lifecycle support.
Suarez ... committed to advancing KSA's digital capabilities
In its system integration projects, ABB incorporates the latest technologies in the field of process and environmental applications.
ABB has an extensive analytical portfolio comprising gas chromatographs, continuous gas analyzers, FTIR, laser and continuous water analyzers.
In addition to the SIU, the Dammam facility has a pressure and temperature transmitter production and assembly line.
Routinely used in the oil and gas as well as petrochemical industries, pressure and temperature transmitters are important for both safety and efficiency.
The ABB facility in Dammam makes it possible for customers in Saudi Arabia to benefit from reduced costs, safety, higher efficiency and increased reliability in plant operations.
According to Suarez, the SIU has helped ABB to work closely with Saudi Arabia's energy sector. 'We will continue working in a way that adds more value to the local manufacturing sector.'

COMMITTED TO LOCALISATION EFFORTS
ABB provides gas analyser system integration with fully customised analytical
systems and solutions
ABB's association with Saudi Arabia goes back to 1951 when a predecessor company supplied Aramco with gas turbines.
Since then, ABB has established various facilities to support Saudi Arabia's multiple infrastructural projects, from building the first mobile substation to delivering automation systems for oil and gas plants, all executed locally.
In 1994, ABB was certified as the first company in Saudi Arabia conforming to ISO 9001.
ABB's localisation efforts are not a recent phenomenon. It started with the laying of the first foundation stone in Riyadh's industrial city for ABB's factory in 1986, and in 2008 ABB introduced the Swedish Masters' degree scholarship programme for Saudi students.
Suarez further mentions that ABB will continue to provide training on the latest digital technologies and analytical systems to the new hires working at the SIU.
'We are focused on acquiring more local talent to create a robust local workforce that will continue to support ABB's future endeavors in Saudi Arabia,' he says.
Highlighting the benefits of a strategically located SIU in Dammam, Suarez also says that after receiving 9COM (list of approved vendors) approvals from Aramco for the SIU in October 2021, the facility has acted as a local supply chain hub, enabling ABB to contribute to the region's long-term economic growth.
ENHANCING TECHNOLOGICAL CAPABILITIES
Effective measurement of gas quality is key to safety and reliability in the oil and
gas industry
To drive technological innovation and support Saudi Arabia's economic and social programmes, ABB signed a framework agreement with Samsung Engineering in August 2023 to support the latter with analytical system projects to be executed in the Kingdom.
Suarez says this project will receive support from the Dammam SIU, and both companies are supporting Vision 2030 with this agreement.
'Together, the two companies are exploring business opportunities and providing complete analyzer solutions to the Saudi oil and gas market aligning with government development programmes. Effective measurement systems ensure safety and reliability while optimising productivity and decreasing the environmental footprint,' he says.

SUPPORTING DIGITALISATION
When it comes to digitalisation, Saudi Arabia via Aramco and other companies has been ramping up its investment in a wide range of digital technologies that will help build a safer and more sustainable future for its citizens.
'ABB is a key player in driving diverse economic activities and technological evolution, including digitalisation in Saudi Arabia,' says Suarez. 'Through the SIU, ABB is committed to invest in advancing the country's digital capabilities.'
Suarez says working with Aramco's technical personnel has led to the exchange of knowledge and domain expertise in digital solutions. 'Every year we are working with Aramco on different projects, which has been a distinctive learning experience and has encouraged us to keep innovating to serve our customers in the region.'
The design and fabrication of the ABB systems are done locally at the SIU enabling local employees to gain knowledge about ABB's portfolio of measurement solutions.
ABB has been a pioneer in measurement and analyser solutions for optimising plant operations and monitoring emissions. Suarez says these solutions help reduce energy consumption and contribute to the digitalisation efforts.
He further mentions that through the SIU, ABB will continue to provide a complete package of digital solutions that help monitor emissions and enable ABB and Aramco customers to comply with global environmental regulations.
'ABB's experience in providing cutting-edge digital solutions will continue to strengthen the relationship with Aramco and contribute to the energy sector of Saudi Arabia,' Suarez says.