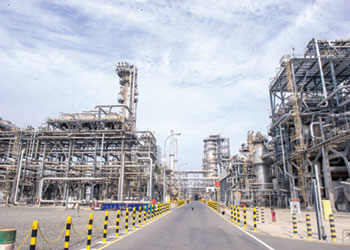 Petro Rabigh … a joint venture between Aramco and Sumitomo Chemical
Chemicals present considerable opportunities for future growth and long-term value creation for Aramco and its chemicals business spans the production of basic chemicals such as aromatics, olefins, and polyolefins to more complex products such as polyols and advanced synthetic rubber
Unlocking the greater potential value inherent in Aramco's hydrocarbon resources lies at the heart of the company's chemicals strategy.
Since entering the chemicals business in 1998, it has sought to maximise the value of every hydrocarbon molecule it produces and has created a diversified portfolio of non-oil revenue streams for the company.
As today's fastest growing crude oil demand sector, chemicals present considerable opportunities for future growth and long-term value creation. Aramco's chemicals business currently spans the production of basic chemicals such as aromatics, olefins, and polyolefins to more complex products such as polyols and advanced synthetic rubber. Its chemicals products are found in many of the items we use every day and serve the needs of industries such as packaging, automotive, footwear and appliances.
Aramco's global network includes joint ventures with global industry leaders, including DowDuPont (Sadara), ExxonMobil (Samref), Sinopec (Yasref), Sumitomo (PetroRabigh), and Total (Satorp).
Following the purchase of 70 per cent stake in SABIC, Aramco and SABIC are pursuing selective integration synergies in procurement, supply chain, manufacturing, marketing and sales to drive efficiency and growth, meet customer needs, and create further value for its shareholders.
Through the development of innovative technologies, capacity expansions in the Kingdom, and new investments overseas, the company is continuing to invest in the growth of its chemicals business. Capital upgrades are underway to further integrate its refineries with petrochemical operations, which would support the production of more complex, higher-value chemicals and specialty products, Aramco says.

Aramco's key chemicals businesses include:
A Sabic plant ... chemicals and petrochemicals are key elements of Vision 2030
• Arlanxeo: Based in Maastricht, Netherlands, as a wholly-owned subsidiary of Saudi Aramco, Arlanxeo serves the development, production, marketing, sale and distribution of specialty chemicals and synthetic rubber products, principally for the high-volume global tyre and automotive industries.

• Fujian Refining and Petrochemical Company (FREP): FREP is a large-scale petrochemical enterprise in China jointly owned by Aramco and ExxonMobil – each with 25 per cent of the venture – as well as Fujian Petrochemical Company, which owns the remaining 50 per cent. Officially formed in March 2007, FREP expanded an existing refinery from producing 80,000 to 280,000 barrels per day, and uses some of the world's most advanced automation technologies to realise the integrated management and control of a digital plant. The refinery is home to a 1,100,000 tons-per-year ethylene steam cracker, a 900,000 tons-per-year polyethylene unit, a 670,000 tons-per-year polypropylene unit, as well as an aromatics complex.

• Rabigh Refining and Petrochemical Company (Petro Rabigh): This is a joint venture between Aramco and Sumitomo Chemical. The products produced are used in such end-products as plastics, detergents, lubricants, resins, coolants, anti-freeze, paint, carpets, rope, clothing, shampoo, auto interiors, epoxy glue, insulation, film, fibers, household appliances, packaging, candles, pipes and many other applications.

• PRefChem venture: It is a strategic alliance between Aramco and Petronas, through equal ownership in two joint ventures, namely the Pengerang Refining Company (PRefChem Refining) and the Pengerang Petrochemical Company (PRefChem Petrochemical), collectively known as PRefChem. PRefChem owns and operates the refinery and petrochemical complex which forms a significant part of the Pengerang Integrated Complex (PIC) in Malaysia's southern state of Johor. The refinery complex has a capacity of 300,000 barrels of crude per day, and produces a range of refined petroleum products, including jet fuel, motor gasoline and diesel meeting Euro 5 fuel specifications. It also provides feedstock for the petrochemical complex, that has a nameplate capacity of 3.4 million metric tonne per annum (MTPA).

• Sadara Chemical Company (Sadara): A joint venture developed by Aramco and the Dow Chemical Company. The Sadara chemical complex is the largest of its kind ever built in a single phase. It manufactures a portfolio of valued-added performance plastics and specialty chemicals.

• Saudi Aramco Jubail Refinery Company (Sasref): The refinery, wholly-owned by Aramco, is located in Jubail Industrial City. The refinery processes crude oil into petroleum products for both local and international markets. The production capacity of the refinery is 305,000 barrels per day. The main products are liquefied petroleum gas (LPG), naphtha, kerosene, diesel, fuel oil and sulfur.

• Saudi Aramco Total Refining and Petrochemical company (Satorp): The joint venture between Aramco and Total in Jubail, Satorp supports Aramco's efforts to expand the value chain and achieve maximum value from the Kingdom's resources. It processes heavy Arabian crude daily into low-sulfur gasoline, diesel and jets fuel that comply with the standards in the US, Europe and Japan. It also produces paraxylene, benzene, sulfur and pure petroleum coke that fuels cement plants and electric power stations.
• S-Oil Corporation: Aramco's investment in South Korea's S-OIL, one of the country's leading refiners, complements its downstream ventures in China and Japan and creates new opportunities along the value chain in the major energy markets in Asia. Aramco is the majority shareholder of S-OIL, holding more than 63 per cent of the company's shares through its Aramco Overseas Company BV subsidiary. Aramco initially invested in S-OIL in 1991, and their relationship continues to grow stronger, with the refining capacity increasing from 90,000 bpd in 1990 to roughly 700,000 bpd in 2018.
In 2022, Aramco decided to make its biggest ever investment in South Korea to develop one of the world's largest refinery-integrated petrochemical steam crackers through S-OIL affiliate. The $7 billion Shaheen project aims to convert crude oil into petrochemical feedstock and would represent the first commercialisation of Aramco and Lummus Technology's TC2C thermal crude to chemicals technology, which increases chemical yield and reduces operating costs. It follows an earlier $4 billion investment into the first phase of the petrochemical expansion completed in 2018.
Located at S-OIL's existing site in Ulsan, the new plant is planned to have the capacity to produce up to 3.2 million tons of petrochemicals annually and include a facility to produce high-value polymers. The project is expected to start this year and be completed by 2026.

• Yanbu Aramco Sinopec Refining Company (Yasref): A joint venture between Aramco and China Petrochemical Corporation (Sinopec), Yasref is a world-class, full-conversion refinery that covers about 5.2 million sq m in the Yanbu Industrial City, and is the key anchor project in the city. Yasref uses 400,000 barrels per day (bpd) of Arabian heavy crude oil to produce premium transportation fuels, as well as high-value refined products for both international and domestic markets.