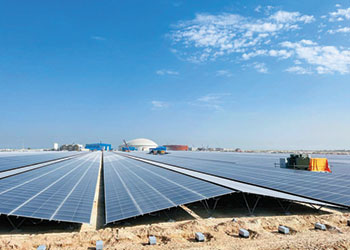 The Vertex N 700W+ series solar PV modules at the Juabil 3A IWP
Trina Solar, a leading global PV and smart energy total solution provider, has powered a groundbreaking desalination plant in Jubail, Saudi Arabia, with its cutting-edge Vertex N 700W+ series solar PV modules.
The photovoltaic power station, boasting a substantial installed capacity of 45.5 MW, was recently integrated into the grid through the expertise of SEPCOIII, a subsidiary of Power China.
The Jubail 3A Independent Water Plant, located Jubail, represents Saudi Arabia's pioneering leap into large-scale integrated water desalination bolstered by solar energy.
The project serves as a landmark in the country's sustainable energy journey, generating electricity to fulfill 20 per cent of the plant's daily energy requirements.
Notably, it is projected to curtail carbon emissions by an impressive 60,000 tons annually, underscoring its pivotal role in the plant's energy ecosystem.
Commenting on the project, Gonzalo de la Vina, President of Trina Solar EMEA, said: 'Our collaboration on this remarkable project marks a milestone in sustainable energy solutions. By combining advanced technology with environmental stewardship, we are enabling Saudi Arabia to meet its water and energy needs while contributing to a greener future.'
Key to the success of the project are Trina Solar's Vertex N 700W+ series modules, which integrate innovative 210 mm wafer technology alongside n-type i-TOPCon advanced cell technology.
These modules excel in efficiency, boasting a remarkable 22.5 per cent efficiency rate, while embodying features like ultra-low degradation, optimal bifacial power generation, and ultra-low operating temperatures.
Aptly termed the 'star of ground-mounted power stations', these modules epitomise the future of sustainable energy.
The desalination plant's coastal location, coupled with its complex climate conditions, underscores the demanding environment.
Saudi Arabia's heavy reliance on desalination for 70 per cent of its drinking water underscores the critical importance of projects like the Jubail plant.
Utilising seawater reverse osmosis technology, the plant contributes an impressive 600,000 tons of water daily, benefiting three million people and playing a crucial role in supplying water to the cities of Dammam and Riyadh. This initiative is pivotal in addressing the burgeoning water demand along the nation's eastern coast.